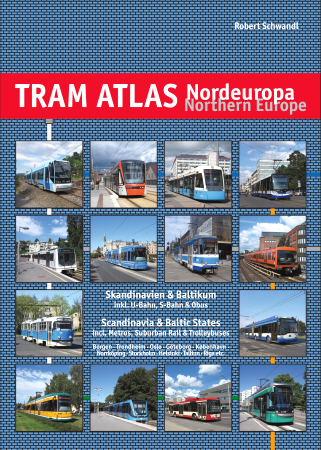 TRAM ATLAS NORDEUROPA
Tram Atlas Northern Europe
Skandinavien & Baltikum
Scandinavia & Baltic States
Erschienen am 28. Oktober 2013 | Published on 28 October 2013
128 Seiten | pages
17x24 cm
300 Farbfotos | colour pictures
Netzpläne | Network maps
Text deutsch | English
ISBN 978-3-936573-41-1
EUR 19.50
SORRY!
Nicht mehr erhältlich! | No longer available!
In diesem illustrierten Atlas werden alle Straßenbahn- und Obusbetriebe im Norden Europas vorgestellt, von Bergen in Norwegen bis Vilnius in Litauen. Für jede Stadt gibt es einen detaillierten Netzplan, für manche mit einem besonderen Innenstadtplan, mit allen Haltestellen, eingleisigen Strecken, Schleifen, Betriebshöfen usw. Kurze Texte beschreiben die Besonderheiten der einzelnen Betriebe, während Tabellen alle Eckdaten zur Geschichte und Betrieb liefern. Alle aktuellen Fahrzeuge sind auf Farbfotos vertreten.
This illustrated atlas includes all tramway and trolleybus cities in Northern Europe, from Bergen in Norway to Vilnius in Lithuania. Each city features a detailled system map, some with an enlarged city centre area, showing all stops, loops, single-track section, depots etc. Short texts provide information about special features, while details about history and operation are presented in tables. All current vehicles are depicted in one of the numerous colour photographs.
Buchrückseite mit Netzplanauszügen (klicken Sie auf das Bild, um es zu vergrößern!)
Back cover depicting network map samples (click on image to enlarge!)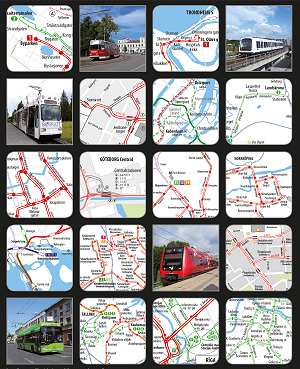 Musterseiten (zum Vergrößern anklicken) | Sample pages (Click to enlarge!)