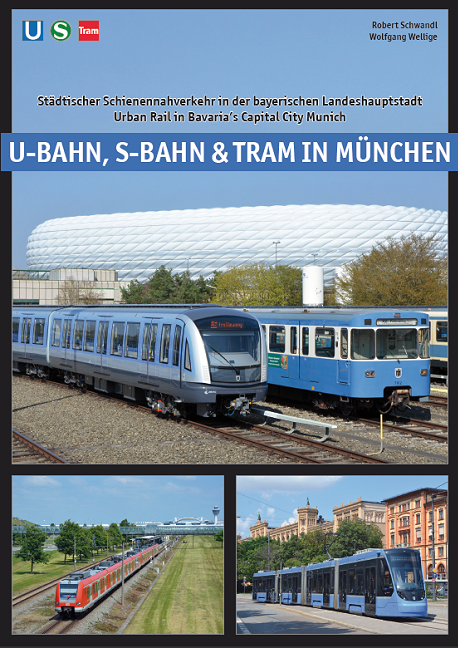 Robert Schwandl & Wolfgang Wellige

U-BAHN, S-BAHN & TRAM IN MÜNCHEN
Städtischer Schienennahverkehr in der bayerischen Landeshauptstadt
Urban Rail in Bavaria's Capital City Munich
Erschienen am 22. November 2021 | Published on 22 November 2021
144 Seiten | pages
Netzpläne | network maps
ca. 300 Farbfotos | colour photos
Text deutsch & English
Robert Schwandl Verlag
ISBN 978 3 936573 65 7
19.50 EUR
| | |
| --- | --- |
| In der bayerischen Landeshauptstadt betreibt die MVG ein modernes U-Bahn-Netz mit drei Stammstrecken durch die Innen­stadt sowie ein klassisches Straßenbahnnetz, das in den letzten Jahren wieder etwas erweitert wurde. Dazu kommt ein von der Deutschen Bahn betriebenes S-Bahn-Netz, das die Region mit der Stadt München verbindet. Das Zusammen­spiel dieser drei Schienenverkehrsmittel platziert München ganz oben in der Liste der europäischen Städte mit dem ­besten ÖPNV. Wie gewohnt ist das Buch mit unzähligen Fotos, darunter zahreiche historische Aufnahmen, sowie detaillierten Netzplänen illustriert. Außerdem werden alle aktuellen Fahrzeugtypen sämtlicher Bahnen vorgestellt. | In the Bavarian capital, the MVG operates a modern U-Bahn system with three trunk routes through the inner city, plus a classic tram system, which has been slightly expanded in recent years. These two urban rail systems are complemented by an S-Bahn network run by Deutsche Bahn, which provides a link between the region and the city of Munich. The combination and interaction of these three urban rail systems places Munich at the top of the list of European cities with the best public transport. As always, this book includes numerous photos, many of them historic views, as well as detailed network maps and useful information about all the current rolling stock. |
---
Hier sehen Sie einige Musterseiten (klicken Sie auf das Bild, um es zu vergrößern):
Here you can see some sample pages (click on the image to enlarge it):
Ähnliche Bücher sind in dieser Reihe bereits erhältlich: | Similar book are already available in this series:
Geplant | Planned: NEW YORK CITY - etc.
---
Unser erstes Buch über München (nicht mehr lieferbar, sorry!) – Our first book about Munich (no longer available, sorry!):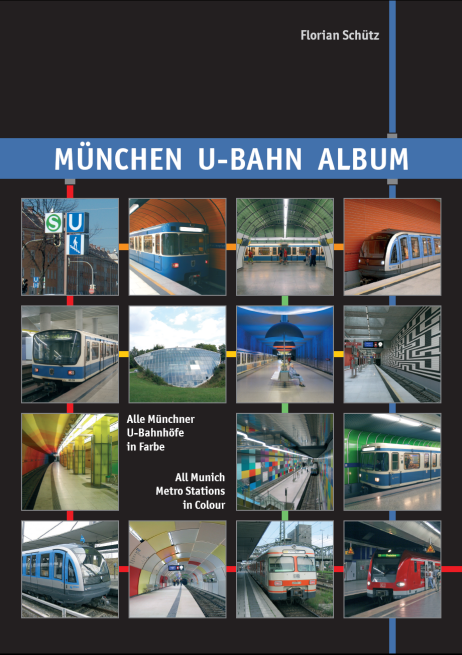 Florian Schütz

München U-Bahn Album
| | |
| --- | --- |
| Pünktlich zu den Olympischen Spielen 1972 fuhr in München die erste U-Bahn. Seither ist ein großes und effizientes Schnellbahnnetz entstanden, dessen Bahnhöfe durchweg interessant gestaltet wurden. Neben einer Beschreibung der Entwicklung des Netzes und der Fahrzeuge werden in diesem Buch alle U-Bahnhöfe einzeln vorgestellt, illustriert mit zahlreichen Farbfotos und detaillierten Netzplänen. | The Munich U-Bahn started running just in time for the 1972 Olympic Games. Since then, a large and efficient rapid transit network boasting many spectacular stations has been created. Besides a description of the network's evolution and rolling stock, plus a set of detailled network maps, this book also uses numerous photographs to introduce you to each individual station. |
---
Erschienen am 4. Nov. 2008 | Published on 4 Nov 2008
144 Seiten | pages
Netzpläne | Network maps
ca. 400 Farbfotos | colour photos
Text deutsch & English
ISBN 978 3 936573 19 0
Vergriffen | Out-of-print!
< Zur Verlags-Website | Go to the publisher's website
MUSTERSEITEN | SAMPLE PAGES
Klicken Sie auf das Bild, um eine Vergrößerung zu sehen!
Click on image to enlarge!
< Zur Verlags-Website | Go to the publisher's website
2008 © Robert Schwandl Verlag