STÄDTISCHER SCHIENENNAHVERKEHR IN SÜDOSTDEUROPA
Urban Rail Transport in Southeastern Europe
HOME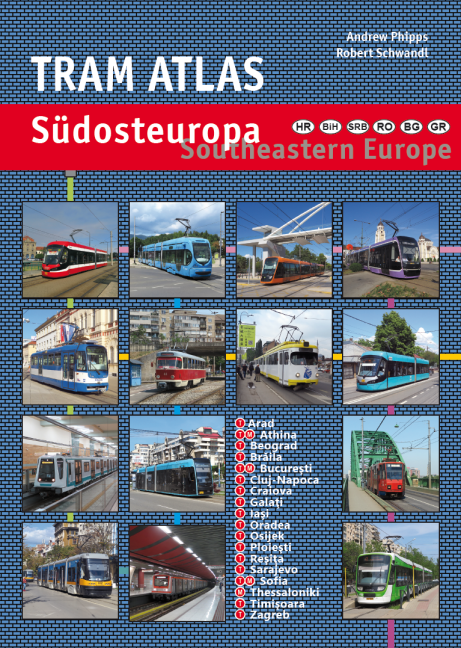 TRAM ATLAS SÜDOSTEUROPA
Tram Atlas Southeastern Europe
Kroatien, Bosnien & Herzegowina, Serbien, Rumänien, Bulgarien & Griechenland
Croatia, Bosnia & Herzegovina, Serbia, Romania, Bulgaria & Greece
Erscheint im Sommer/Herbst 2023 | Published in summer/autumn 2023
160 Seiten | pages
300 Farbfotos | colour pictures
Netzpläne | Network maps
Text deutsch | English
ISBN 978-3-936573-69-5
EUR 24.50
In diesem illustrierten Atlas werden alle Straßenbahn- und U-Bahnbetriebe in Kroatien (Zagreb & Osijek), Bosnien & Herzegowina (Sarajevo), Serbien (Belgrad), Rumänien (Arad, Braila, Bukarest, Cluj-Napoca, Craiova, Galati, Iasi, Oradea, Ploiesti & Timisoara), Bulgarien (Sofia) und Griechenland (Athen & Thessaloniki) vorgestellt. Für jede Stadt gibt es einen detaillierten Netzplan, mit allen Haltestellen, eingleisigen Strecken, Schleifen, Betriebshöfen usw. Kurze Texte beschreiben Geschichte und Besonderheiten der einzelnen Betriebe. Die meisten aktuellen Fahrzeugtypen sind auf Farbfotos vertreten.
This illustrated atlas includes every tramway and metro city in Croatia (Zagreb & Osijek), Bosnia & Herzegovina (Sarajevo), Serbia (Belgrade), Romania (Arad, Braila, Bucharest, Cluj-Napoca, Craiova, Galati, Iasi, Oradea, Ploiesti & Timisoara), Bulgaria (Sofia) and Greece (Athens & Thessaloniki). For each city, there is a detailed system map showing all stops, loops, single-track sections, depots etc. Short texts describe the history, operation and special features of every system. Most of the current vehicles are depicted in the numerous colour photo­graphs.
Musterseiten (zum Vergrößern anklicken) | Sample pages (Click to enlarge!)
.... demnächst ... | ... coming soon ...
---